We're happy to hear from inquirers anytime!
Now seeking topics for 2015-16 meetings
Summer Reading for Oblates - New posts each week.
Pray at the monastery any day!
2015-2016 Oblate dates coming soon!
[The tragedy in Charleston, SC prompted me to change the order of summer book postings. Here are two true stories of episodes in which gun violence entered a monastery and took lives. Reading (or re-reading) them might help us to better know how to pray for the people of Charleston.]
This tender and reflective book is the story of Br. Jean-Pierre Schumacher, the last surviving member of the French Trappist community in Tibhirine, Algeria. The story of their ministry of prayer and presence among the Muslims in a small village, their decision to remain even in the face of growing violence, and the eventual kidnapping and killing of most of the community was beautifully portrayed in the 2010 movie Of Gods and Men. This book is part interview, part reflection.  Freddy Derwahl, who had himself been a Trappist novice years ago, before choosing to return to secular life, spends time with Br. Jean-Pierre, not to hear the story of the life at Tibhirine, but to understand how he has thought and prayed about the events in the nearly 20 years since they occurred.  He arranged to spend time with him in his home at Notre-Dame d'Atlas à Maroc, the location on the other side of the Atlas mountains, in Morocco rather than Algeria, where the Trappists rebuilt their monastery after the tragedy.
This book is much more than a reflection on the impact of violence on a community. It portrays the way the community continues to offer itself by working closely with their Muslim neighbors, offering service and hospitality. It is a multi-layered work, weaving the impact of the tragic violence of 1996 into the current spiritual lives of these Cistercian monks, seen through the eyes of a modern European.   (Right now, this book is on sale for $5 at Paracelete Press, click the link.)
In June 2002, a man unknown to the community entered Conception Abbey in rural Missouri, shooting the first four monks he met and killing two of them. Then he killed himself.  This unexpected violence shattered the peace and tranquility not only of the monastic community, but of the students, faculty and staff at Conception Abbey Seminary and the many others who work in the Abbey ministries, or live in the small close-knit community.  
One of them was Paul Johnson, a literature professor at the Seminary. At the time of the shooting, he was already grappling with his own faith because of tragic events in his family the year before.  This book chronicles the impact on his own faith of being part of this community as it grapples with the emotions and spiritual choices it faces after the tragedy.  It includes large segments that explain the Rule of St. Benedict so that readers who are not familiar with Benedictine spirituality can understand the way of life in the community, and the faith foundation of the choices they make.  This memoir weaves together the healing of a community with the healing of an individual life.  (This book is available in Kindle and paperback editions, and is free for KindleUnlimited subscribers; click the link.)
Trailer for Of Gods and Men
Related articles
[Summer Reading for Oblates: The blog offers a series of short book descriptions as possibilities for your summer reading. Each will have some Benedictine or monastic connection. We'd love to receive short blurbs from Oblates about Benedictine/monastic books that they like (up to 250 words) – contact Sister Edith if you're willing to write one.]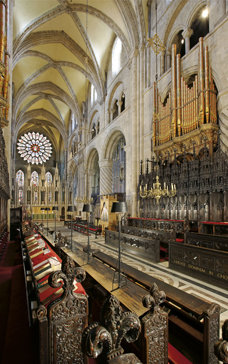 The Last Divine Office presents the familiar historical events of the English Reformation from an entirely new perspective:  that of the Benedictine monks of Durham Cathedral in the north of England.  Living and praying daily in the Durham Cathedral, one of the world masterpieces of Romanesque architecture, they were a learned community, having one of the great monastic libraries of their day. Well-connected to many noble families and familiar with politics, their lives of prayer and work, of service to the many pilgrims who came to visit the Shrine of St. Cuthbert and to their region, seemed stable, relatively comfortable, and peaceful.
The English Reformation served more purposes than the re-marriage of Henry VIII.  In separating from Rome, Henry also laid claim to all the lands and holdings of churches, parishes and monasteries.  In the ensuing years, nearly all the monasteries were dissolved, whether because they remained faithful to the Roman Catholic Church or, later, because Henry sought their holdings and property to support his ongoing military conquests.
Geoffrey Moorhouse draws on the detailed history and records still found in the great library at Durham Cathedral and numerous other historical sources to provide a monks-eye view of the events of those years.  Like any good historian, he presents the overall flow of events clearly – but brings enhances them with details about the lives and fates of one particular Benedictine community.  The reader understands the great personalities and experiences the sorrow of losing the monastic communities. You won't regret reading it.
Related articles
The Benedictine Sisters entered a sacred time of Discernment and Election on the evening of June 2, led by two experienced facilitators from other communities.  Discernment began by reviewing the Direction Statements that we wrote – with the same facilitators – in January. It is a process guided by the Holy Spirit, and focusing on what each Sister thinks best for the community, not just for herself.
On Friday afternoon, the Benedictine Sisters chose Sister Beverly Raway as Prioress-elect; her term of office begins with her installation on August 15, 2015 and continues until the installation of the next Prioress in 2021.  Oblates will remember Sister Beverly from her presentation about the ministry of Sponsorship during the February 2015 Oblate meeting.
About the Discernment Process
The Sisters spent most of Wednesday considering what kind of person could best lead the community in implementing our direction statements – what characteristics, skills, experiences and knowledge would best prepare her to be the leader at this time. At the end of the day, names of sisters who might have some of these characteristics were surfaced. (Saint Scholastica herself would not have had all of them!)
Thursday was devoted to a variety of ways of prayerful listening to and questioning the sisters whose names were surfaced, helping the community develop a sense of what each might bring to the role of prioress, how they see the needs of the community, and how they might lead the community in carrying out our chosen direction statements.  Our monastery is blessed with many sisters who have abundant gifts. One result of this day's work was a sense of gratitude for those blessings – and recognition that each of those sisters would continue to contribute to our community life no matter which was chosen. On Friday, the facilitators guided the community to choose among the names, using a variety of ways to explore where the Holy Spirit was drawing a convergence.
About the Election
When it appeared that the community had converged in its choice for leadership, the Sisters gathered formally in Rockhurst Meeting Room for the election, which is carried out in accordance with canon law and the norms of our Federation.  The ballots were cast, one-by-one, in solemn silence and tallied by the tellers.  The result was announced by the Federation President, Sister Susan Hutchens.
Election as Prioress is not simply a matter of receiving the votes.  The Sister herself is asked whether she accepts election (a similar process is used with the election of a Pope).  In our monastic tradition, before the Federation President asks that question, each sister comes forward to express to the Sister they have chosen how they will support her in carrying out her office.  Only after she has heard from each of the sisters is she asked, "Do you accept election as Prioress…"
Sister Beverly said, "Yes."
Sister Beverly is an Associate Professor of Nursing in our College of St. Scholastica, teaching medical surgical nursing, pain management and evidence-based practice to undergraduate students.  She has been central in organizing and leading service-learning trips to our Twinning monasteries in Tanzania.  She is a trustee on the board of directors of the Benedictine Health System and a member of the Institutional Review Board of the Essentia Institue of Rural Health.
Join us in praying for our prioress-elect and our current prioress
Sister Beverly asked me to thank the Oblates for their prayers in these months leading up to the election.  She said, "The power of their prayer was certainly at work as we discerned."
At the conclusion of the election, the Federation President requested that we all offer prayers during this time of transition – prayers for Sister Beverly as she prepares to assume this difficult and important role, and also prayers for Sister Lois Eckes, who will be experiencing her own transition as she concludes ten years of service as Prioress.
Sister Almira Randall went home to God in the early morning hours of June 3, 2015 in hospice at St. Mary's Medical Center in Duluth.   Her dear friend, Sister Danile, was with her.  Sister Almira was 90 years old, having entered St. Scholastica Monastery as a postulant nearly 72 years ago.  Her wake and funeral will be held on Thursday, June 11.
Although Sister Almira was known for her warm hospitality both at the Monastery and at the McCabe Renewal Center (where she cooked and baked for retreatants until 2010), she spent most of her life teaching elementary school.  She was a superb storyteller, and had plenty of great stories to tell: having a double-class (52 children) of 1st graders in a year when there were not enough sisters to cover all the classroom, the exploits of the girls with developmental disabilities at  St.Gertrude's School of Arts and Crafts in Washington, D.C. , and most especially of the struggling or disorganized children who pulled themselves together with her help and went on to successful lives. There are hundreds of children with warm memories of a teacher who cared about them and prayed for them regularly.
Sister Almira had a delightful sense of humor and a creative spirit.  When Sister Mary Charles opened a pottery workshop in the monastery, Sister Almira began to make nativity scenes – the baby Jesus in a crib, a child's gold ring for a halo, with an angel standing nearby to greet him. Each scene included a little card with the angel's words; the one that Sister Almira gave me reads, "Hello, Jesus! It's me!"
For several years, Sister Almira helped write and profile sisters for the monastery's Pathways magazine.  When the editorial committee wanted to include a profile of her, Sister Almira – very much in character – decided to write her own (see Sister's Profile: Sister Almira), beginning with her arrival in a gunny sack on St. Nicholas' Feast Day, December 6; it was printed in the Summer 2011 issue of Pathways.
Sister Almira's Wake, Funeral Mass and Burial will take place on Thursday, June 11 in Our Lady Queen of Peace Chapel:
Wake Service/Morning Prayer at

9:30 a.m.

 
Mass of Christian Burial  at

11:00 a.m.

 
Rite of Committal to the Earth will be at the Monastery Gethsemane Cemetery.
All Oblates and friends of the monastery are invited to join us for these rites, and to hold Sister Almira in your prayers.
The Monastic Institute 2015 will be held June 28 – July 2 at St John's School of Theology in conjunction with St John's Abbey and St Benedict's Monastery. The theme for this year's Institute is Monasticism: Soul of the New Evangelization. As always, both speakers and participants will represent a wide variety of backgrounds and ways of living out their promises to live according to the Rule of St. Benedict.
Several sisters from St. Scholastica Monastery will be attending. Any Oblates who would like to add their registration at the reduced rate should contact Sister Edith quickly to make arrangements to be added tomthe list and send in their check. (You would not have to travel with the Sisters…)
For more information, click the link above or read the brochure.